Here is another design document available free from Adriann Kragten.  He wrote to me:
"Recently I have written report KD 664 which can be copied for free from my website: www.kdwindturbines.nl at the menu KD-reports. The title of this report is: "Calculations executed for the 2-bladed rotor of the VIRYA-1.8W windmill (lambda design = 6.25, wooden blades) used in combination with an 8-pole permanent magnet generator frame size 71 with a stator with no iron in the coils". This is a rather simple rotor with water proof plywood blades coupled to each other by a thin stainless steel strip to make the rotor elastic. The blades have a constant cord and blade angle. I have used the Gö 711-12% airfoil which has a lower side which is flat for 97.5 % of the cord.
"The rotor is meant to be used with the radial flux PM-generator as described in public report KD 644.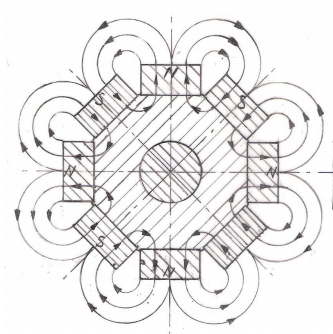 As this generator has almost no sticking torque, it can be used in combination with a rotor with a low starting torque coefficient and still have a low starting wind speed. As there are no iron losses, the generator will have a high peak efficiency . The advantage of using a standard motor housing is that the coils and the magnets are well protected against rain and that most components are mass produced and therefore rather cheap.
"This new report KD 664 contains detailed drawings of the rotor and the hub in the appendix. The VIRYA-1.8W makes use of the same head and tower as used for the VIRYA-1.8. Fotos of drawings of these head and tower are given in the manual part 2 of the VIRYA-1.81 which is given at the bottom of the menu KD-reports. To give an impression of the VIRYA-1.8 rotor drawings, I have added drawing 1801-01 as an attachment.
"Yours sincerely
"Adriaan Kragten"