PWM controllers are ideal for optimising the charge rate of your battery.  But the energy they divert is often wasted in a resistance heater in the battery shed.  OK so this may only be a rare event.  And it does no harm.  But some systems produce a lot of surplus energy that can be harnessed to make life better and reduce fuel consumption in the home.
One way to do this is to connect the Tristar (or C-40) PWM controller to a custom made water heater, and I plan to make a page about this option soon.  It's what I do, but it's not the easiest for a lot of people.  So I am going to mention the Relay Driver.
There are a lot of devices that will turn relays on and off at set voltages so as to manage loads on the system and keep the battery charged at the same time.  I mentioned my own homebrew circuit on another page.  If you have an Outback FX inverter  you will a have built-in auxiliary relay that you can use.  Or you can buy a 'voltage controlled switch' (made by Solar Converters – I sell these for £75).  Or one of the many 'charge controllers' that are basically voltage-controlled relays too.
All of these devices will turn a load on when the voltage reaches the desired level of optimum battery charging, and will turn it off after a delay or at a lower voltage 'set-point'.  So what's special about the Relay driver?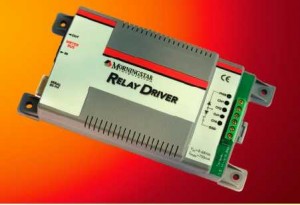 The Relay Driver has four outputs, each of which can be programmed to work in a different way based not only on supply voltage, but also on sensing the condition of other items such as PWM dump loads, and the internal state of an adjacent Tristar controller (via a dedicated coms link).  So for example you can wait until the Tristar has been dumping at more than 25% of its capacity for a total of 15 minutes and then turn on a water heater that works on AC via the inverter.  If you do not need hot water then the thermostat or manual switch on the heater will defeat this and the normal charge control will proceed via the Tristar.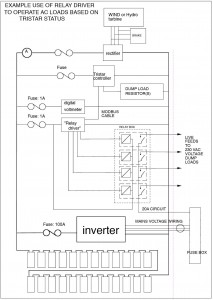 The programing of the Relay Driver requires a Windows based computer with an RS232 lead (an aging laptop is perfect) running thecorrect software.
Buy a Tristar controller or a Relay Driver
Charge controllers (relay type and PWM type)
 Installing a Tristar controller