I am very ready to chat and help decide whether you have a good site and how to use a turbine. I help to design hydro systems for people all over the world and arrange delivery.
phone +44 77 13157600 – Email [email protected]
Powerspout turbines come in 3 models to suit various sites with various heads.   To choose which one will work best you must first have an idea of the head of pressure available.  This is the vertical height difference between the intake and the turbine.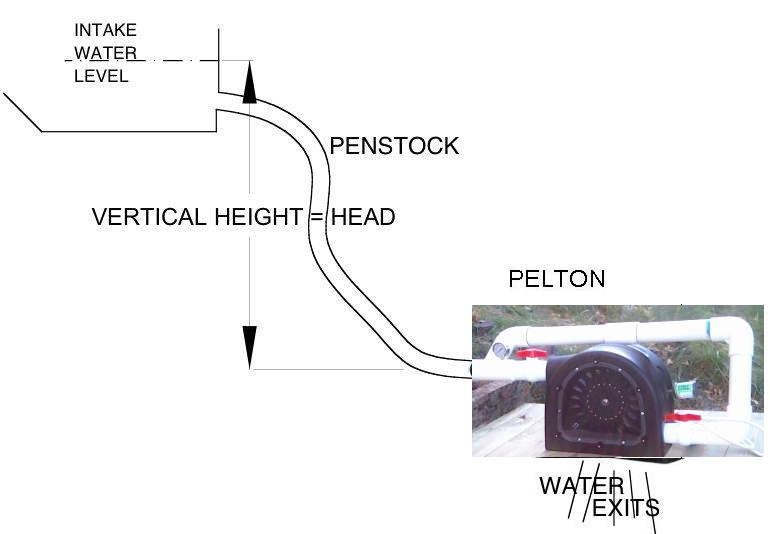 This chart  shows how much energy you can get from a single turbine, given the available head and the flow.  The three models are in different colours. See below for videos of the various turbine models.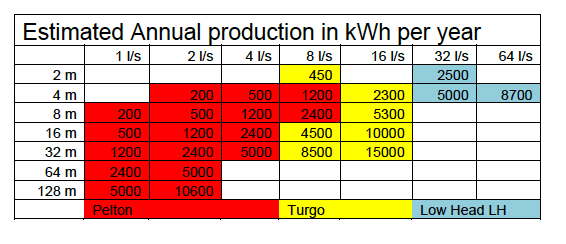 The power output (in watts, which is the rate of energy production) will be roughly five times the head, times the flow.  So for example if you have a head of 10 metres, and 10 litres per second flow of water, then you can expect about 5 x 10 x 10 = 500 watts of power. Multiply by 8760 hours in the year to get annual energy production.  A typical UK home uses around 500W on average for 4,400kWh per year.
If you understand these matters and want to quickly assess the feasibility of a site, then you should go straight to the online calculator on the Powerspout website. Here is a the manual for the calculator if you need that.  This will allow you to design the whole thing including the pipe and the cable. At the end you can enter your email and have the result sent to you.  If you want further help from me then you should also choose "Scoraig Wind Electric" in the drop-down menu for dealers.  That way I get to see your data, and can advise on the best choices.
Contact me and I will provide extra information. Here is a site where we have uploaded lots of documents for you to read.
Everybody wants to know what it will cost of course so here is a link to the shop web site with all of the prices and details of the options and extras.  Note that shipping is free for some of the bundle deals and high value orders which may mean they cost less than you think.  The shopping basket will tell you how heavy your order is and what it will cost in any currency you choose.  Enter your country and address into the boxes to find out the shipping cost which is usually around £200.  The price of the basic turbine is GB £1,690 but it often makes sense to get some spares and/or accessories. Turbines are shipped direct to site, and then DHL will charge VAT and import duty on arrival.   I can offer trade discounts for genuine trade enquiries (installers, resellers). I can bill you in euros € if you prefer.
The turbine is only part of the whole system that can give you 24-hour power, on or off the grid.  I can advise how to put a system together.  Micro-hydro is a very rewarding form of renewable energy in terms of what you get from what you put in, because in most cases it runs for a much larger percentage of the time than solar or wind.  I have designed and installed numerous systems over the last 20 years.  I would use one myself if I had a suitable site!
In the UK it is possible to claim a "feed in tariff" for hydro power.  See this page for details.  I can advise on the technical aspects but I am not strong on the institutional stuff.  I am more of an off-grid specialist and most of my customers are off-grid, either here in Scotland or around the world.  I can design and specify everything you will need and also supply much of the extra stuff at competitive prices.  While it is also possible to claim feed in tariffs in an off-grid UK system, I don't know of anyone who bothers to do this.  I can advise on the technical requirements.
SOME VIDEOS:
PELTON

TURGO TURBINE
LOW HEAD
Some owners' blogs:
Bill Cave's grid connected pelton
Paul Camilli's blog (with many other wonders)
John Mackenzie's Powerspout near Dingwall is at 1.55 in this video: