SCROLL DOWN FOR THE OLDER ONES AND TRANSLATIONS TO OTHER LANGUAGES
Wind Turbine Recipe Book (Metric Edition)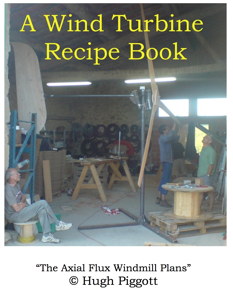 My most popular step-by-step guide
…more details.
This Metric edition uses 46x30x10mm magnets, and wire sizes are in mm.  If you prefer to use inches and AWG then see "English Units" edition below.
Get the right edition for your local magnet and wire sources! 
Old ebook 2010 Metric edition for Amazon Kindle ($5USD)
Buy the PDF using card payment.
Paper copies by post, use the Paypal buttons below to be sent the latest 2023 edition. 
PLEASE NOTE THAT I CANNOT NOW SEND HARD COPY BY MAIL TO THE EU FROM HERE, SO please see this link and copies by mail from Jonathan in Austria.  Or you can also buy from Ti'eole in France.
Choose UK or the world outside of the EU using the drop down menu.
---
Paper copies by mail, use the Paypal button below to pay $20 USD, and be sent hard copy of the latest (2014) edition. 
2F Construction Manual
my latest plans, for only one size (2 metre diameter)
using durable ferrite magnets, and simplified blade carving.
…..More details
To buy a copy by mail click the paypal button below, first choosing your  location for shipping.  Sorry but I can no longer ship this to EU countries due to Brexit.
VERY OLD DOCUMENTS ONLINE
Scrapyard Windpower Realities (classic) Ebook of 1992 publication 
PMG construction manual 2001 (free pdf) free pdf download
My old book "Windpower Workshop" deals with a lot of the basic theory in a simple fashion. It is now out of print but you can find used copies online.
TRANSLATIONS OF THE RECIPE BOOK
FRANCAIS
La majeure partie de cet ouvrage provient du manuel de Hugh Piggott "A wind turbine recipe book" paru en 2008.
Pour cette nouvelle édition de 2014, la maquette du manuel a été entièrement revisitée, actualisée, illustrée et agrémentée de nouveaux visuels, avec des compléments sur l'installation électrique, la fabrication du mât ainsi que de nouvelles annexes.
http://www.tripalium.org/
Sie wollten schon immer mal eine Windturbine bauen? Ihr Zögling plagt Sie mit Fragen, wie das mit der Windkraft denn so genau geht? Die können Sie im nun ganz einfach beantworten; mit der Selbstbauanleitung für Kleinwindturbinen "Drei Flügel im Wind" von GREEN STEP e.V. Mit dieser Anleitung können Sie mit einfachsten Materialien aus dem Baumarkt eine einfache funktionierende Windkraftanlage zur Stromversorgung bauen. Und wer weiß, vielleicht wird Ihr Zügling ja damit dann so berühmt wie William Kwamkamba – "Der Junge der den Wind einfing" – er baute in Afrika eine Windturbine um das Haus seiner Eltern mit Strom zu versorgen.
Der Gewinn aus dem Verkauf des vorliegenden Werkes kommt den Projekten in Kamerun zu Gute. Das nächste große Projekt des Vereins in Kamerun ist der Bau einer erneuerbaren Energieschule in der junge Menschen im Bau von Kleinstwind- und Wasserkraftanlagen, verbesserten Kochern, Solartrocknern und Regenwasserzisternen und vielem mehr ausgebildet werden.
https://www.green-step.org/shop/drei-fluegel-im-wind
ESPAÑOLA
Contact 500rpm in Argentina for a Spanish translation.
Nederlandse
Het handboek "A wind turbine recipe boek" is nu ook in het Nederlands verschenen. Dit handboek is een praktische handleiding voor het zelfbouwen van een turbine. Er zijn een zestal variaties uitgewerkt beginnend bij een wiekdiameter van 120 cm tot een diameter van 420 cm. In de tabel zie je de geschatte opbrengsten bij verschillende gemiddelde windsnelheden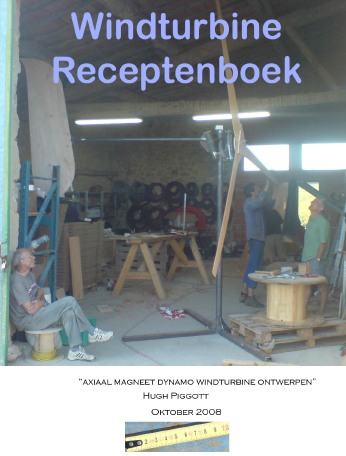 TRADUZIONE ITALIANA
di Antonio Cecere e Beatrice Paparella 
"acecere" <[email protected]>
HUNGARIAN
CONTACT ME for a PDF edition in Hungarian.