Being off the grid I don't need to worry so much about "payback" since I do not pay for mains electricity in the first place and the payback to me is immensely more than cutting my running costs. But I was reading the blog of Bill in Monmouthshire who has been running a PowerSpout for six years and has a lot of useful insights to share.
Bill points out that "there is a benefit unique to very small hydros operating 24/7. Putting out power at the relatively low level of 500 watts (+/- 300), the turbine's output closely matches the base load demand of a property.  Base load is made up of that multitude of appliances which are 'on' all the time – from battery re-chargers to fridges, freezers, central heating pumps, computers and so on. Totted up their power requirement can typically be 400 watts. That translates over a day to an energy consumption of 10 kWh."
Whereas solar PV generates great lumps of energy in the middle of the day when people are out at work (so the house demand is low), hydro carries the load 24/7, and meets your needs directly. Solar energy will mostly be exported to the grid (exceeding the demand) but hydro power is mostly available to use (without buying a battery).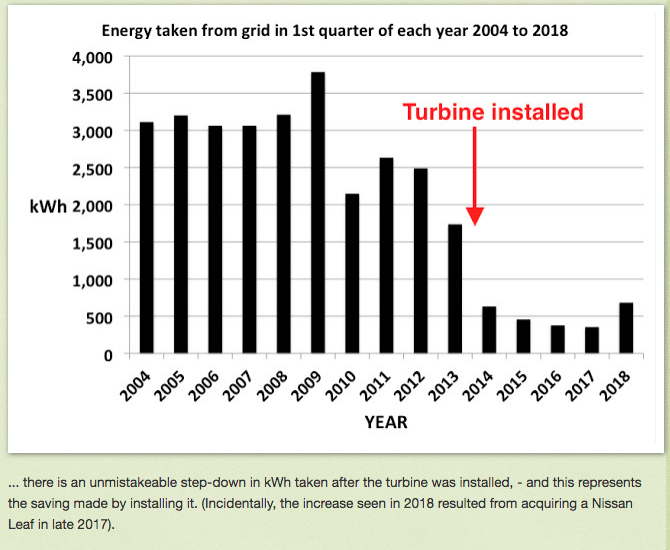 Actually the same logic applies to off-grid sites in fact. You probably want a battery to maximise your usage of the resource and allow you to run a normal home off a hydro that only produces half a kilowatt of power. But the battery can be much smaller than I need, with my wind and solar systems. I wish I could have a hydro but there is no suitable site near my house.