Francis Greaves in Ireland sent me this updated diagram of his system that uses two LDR controllers for a heating system plus the over-voltage trip that I designed for him.  More about how to use the LDR controllers from Solar converters on this page.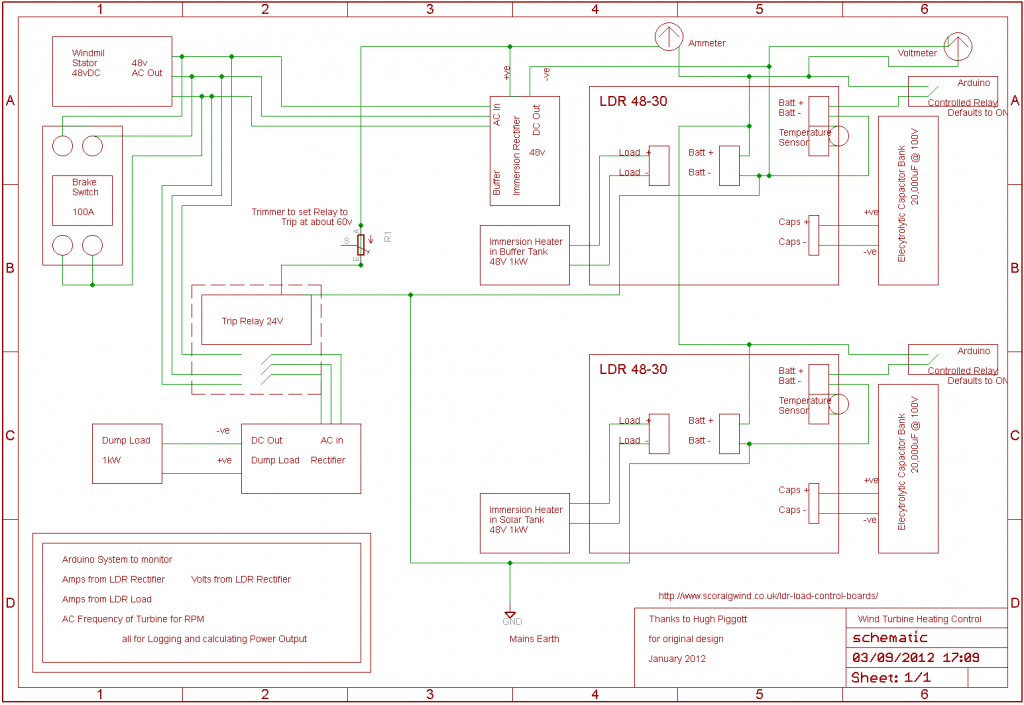 Franciswrites:
"The 2 LDRs (each controlling the Immersion Heaters) are switched on and off via relays as you suggested using the Batt+ lead. The relays default to both ON.
I got a dual element immersion from T P Fay, don't know why I did not think of this before. A 3kW 240v AC element and a 1kW 48v DC element to go into the hot water tank which is also heated by Solar Panels.
I have the other 1kW 48v DC element in the Underfloor Heating Buffer Tank.
I have a trip to switch overvoltage into a 1Kw Dump Load.
I have extended my Arduino controller to check the Hot Water tank temperature and switch the LDRs as necessary when the Solar Tank is above a certain temperature as follows:-
Solar ON and Buffer OFF
Both ON
Buffer ON Solar OFF
This seems to work very well indeed!
In the 2 weeks I have had the system running I have left the Mains input to the Solar Tank Immersion off. There has not been a great deal of wind, but between the Sunshine and Wind I have had plenty of hot water. There is a nice graph showing the Solar and Buffer Tanks in use during a 24hr period in the 'progress' part of the web site.
Just the job. Brilliant! Thank you so much for all your help with this project."