Noam Dotan at Comet-me in Palestine (Community, Energy and Technology in the Middle East) has been sending me some interesting data from the 4.2 m diameter turbines that they  build.  The design is based on the recipe but they use 20 magnets and 15 coils to increase the efficiency and the maximum power of the alternator.
Here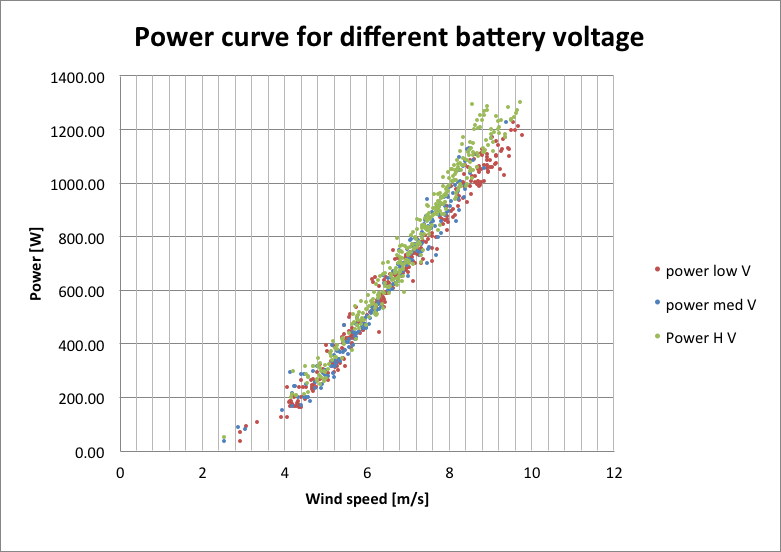 is a scatter plot of power v. windspeed for the battery-charging version from last year.  It's interesting to see how the turbine performs better at higher battery voltages in high winds.  At low voltage the tip speed ratio drops below 5 and the turbine stalls.
Lately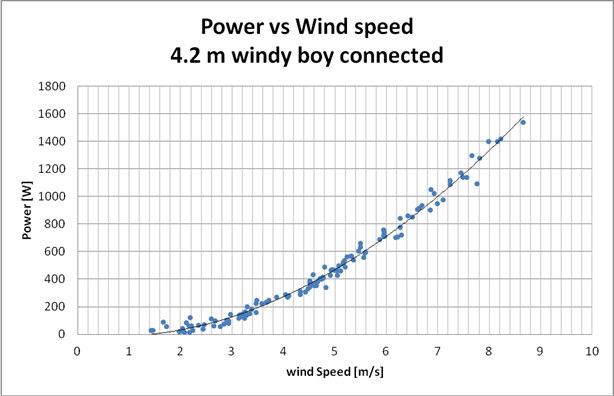 we are seeing data from the grid tied (Windy-Boy) version of the turbine that is linked to the battery via a local grid created by a Sunny Island inverter.  Using variable voltage improves the efficiency of both the blades and the alternator in stronger winds.  Higher voltage keeps the tip speed ratio up and reduces the heating of the stator by keeping the current down.
Just now I have a visitor on Scoraig, Jon Leary, who is setting up dataloggers to measure the power v. windspeed curves for some turbines here.  We are trying to follow the IEC 614200-12-1 standard in so far as is practicable, including the ten minute averaging interval.  We are using a Logic Energy mobile logger for the first tests on a 1.8 m diameter turbine.  It's exciting to begin to see measured data for the recipe turbines.  This can be compared with wind tunnel tests reported on the WindEmpowerment site.  The wind tunnel helps to shed light on the effects of Reynolds number and yaw angle etc in detail, whereas real world testing is the only way to determine the real world energy production of a turbine.  In fact earlier standards documents for wind turbine performance testing explicitly exclude the use of wind tunnel data.