WHAT
A hands-on wind turbine building workshop with Hugh Piggott.  These courses have been held since 2001, with small groups around 5-8 people building a wind turbine over a period of six days and testing it.  Activities include carving blades out of wood. winding and assembling alternators from scratch, arc welding the steel frame.  No previous workshop experience is required.  There is some informal discussion and explanation of the theory behind the design and wind energy for stand-alone situations.  During the week we shall tour some of the many wind and solar systems on the Scoraig peninsula.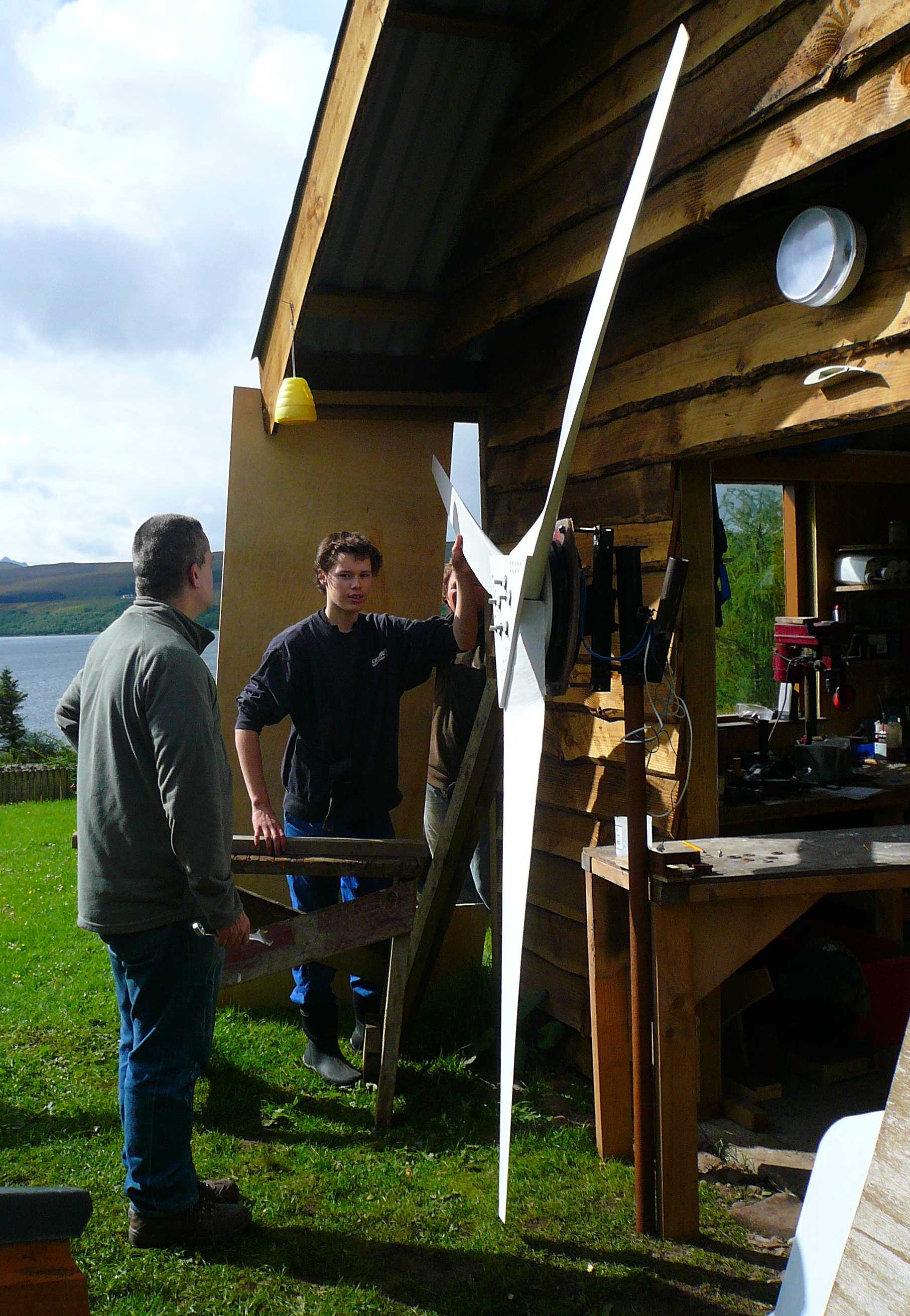 WHEN
This year's workshop course will run from Saturday evening 5th May 2012 and run to Friday evening 11th May with departure the next morning.
WHERE
The Scoraig Peninsula
About 70 miles west of Inverness in the north of Scotland, with no road access.  The easiest way to arrive is by small boat across one mile of water from Badluarach Jetty, but it is also possible to walk in around the cliffs.  The course is timed to fit the arrival and departure of the Westerbus service from Inverness at approximately 1700 on Saturday, returning the following Saturday morning.  Transport will be arranged to and from the Westerbus at 'Badcaul Road end'.
More travel information – how to get to Inverness
ACCOMMODATION
Part of the package is bunkhouse accommodation with meals provided for the week at a cost of £280 each payable to Scoraig Teaching Group, a local charity that runs the bunkhouse.  You are welcome to bring a friend or partner if we have sufficient space.  Please let us know of any special dietary requirements although there may be a small charge for special meals.  The bunkhouse is about 10 minutes walk from the workshop location.
COST
The total cost for the workshop will be £320 for tuition and lunch (including VAT) plus £280 for accommodation for a total of £600 including £53.33 VAT (tax).  If there are sufficient participants then a student discount is sometimes negotiable.
DEPOSIT
A deposit of £100 has to be paid in advance to secure a place in the workshop.
WHAT TO BRING
Bring suitable clothing for workshop activities and wet weather.  Wellington boots recommended.  With any luck it will turn out dry – the weather is often wonderful in May.  Other suggested items are a camera and insect repellant.  Should you wish to bring tools of your own, that will be welcome, although tools are provided.