It's time I mentioned the Kestrel e400i that will celebrate its first year of trouble free operation here on Scoraig in January 2012.  It's installed at the Dome on a tower that was originally used to test the prototype Proven 6kW turbine (now the Kingspan Wind 6kW) in the late 1990s when Topher made the blades for that turbine.  That old turbine finally died of magnet adhesion failure.  I had to weld on an extension pipe to the tower for the Kestrel's blade clearance.
Here are some photos:
I have yet to hear a bad word spoken about this turbine.  There were no issues with it during installation and it has never gone wrong.  (This is rather a spooky experience, given my previous knowledge of the technology.)  This turbine was designed by a Scotsman, Jim Carpy, and is built in South Africa. Eveready SA acquired Kestrel wind Turbines in 2006.  It does not as yet qualify for Feed in Tariffs via the MCS process.  I am told that the same turbine is now available as the upgraded Kestrel e400nb with a 3.5kW rating. "The e400nb is on independent testing with TUVNEL in East Kilbride since July 2011 and has also operated faultlessly. The test machine is grid connected with a Power One Aurora 3600 inverter."
I fitted the system with a DC energy meter by Eltime Controls and we log the energy production every month.  Over the last 9 months it has averaged 400 kWh per month.  In October it produced 650 kWh (22 kWh per day).  During some of these months the turbine as been out of action for periods due to shortcomings in the load control system.
This is a legacy 110 volt battery system with 5 kW sine wave inverter and some very old sealed batteries from a military site.  (Note the 9 PV modules in one photo.)  For reasons of economy and to avoid the noise associated with PWM load control systems, battery charge control is achieved using two Morningstar Relay Drivers.  The first channel in each RD is used as an input.  The six outputs drive five heaters and a wind turbine trip signal that shuts the turbine down via its own 'interface unit'.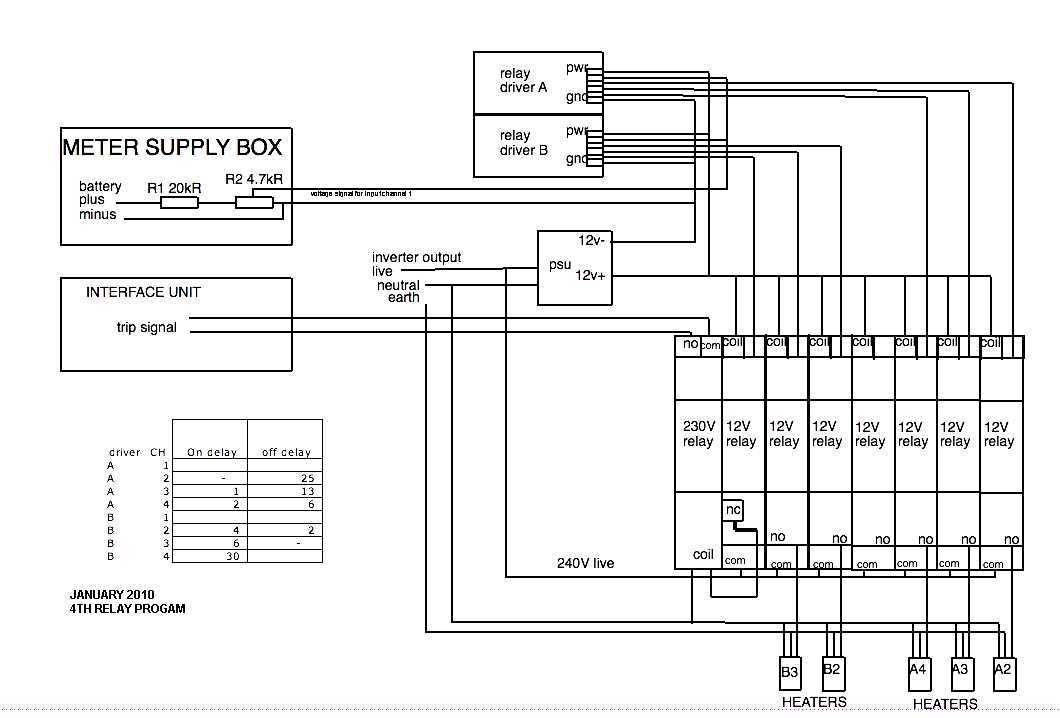 This works 'adequately' and provides a lot of heat, but there were teething troubles during which the inverter cut out, causing the turbine to trip.
The Kestrel runs very fast, but is smooth and quiet.  The sound it makes is businesslike, clearly audible but not intrusive.