Proven Energy have gone bust.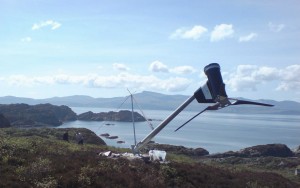 Here is a good source of information:
http://www.businessgreen.com/bg/news/2109634/proven-energy-cash-crisis
also http://www.express.co.uk/posts/view/271863
and http://www.navitron.org.uk/forum/index.php/topic,14973.0.html
I was a big supporter of the Proven wind turbine in the 1990s.  It's built like a tank in contrast to so many flimsy products in the small wind world. But my enthusiasm for the company waned gradually as I witnessed their exaggerated claims and heard from their many unhappy customers (during lengthy development of new products).  In recent years they got a big cash injection and became even more arrogant.  I can't feel much sympathy for the company management, but I am sorry for the workers, the dealers, and even more so for the customers, who have already suffered far too much.