Chris sent me this photo of one of his chain-driven machines, taken with a security camera mounted on a neighbouring turbine.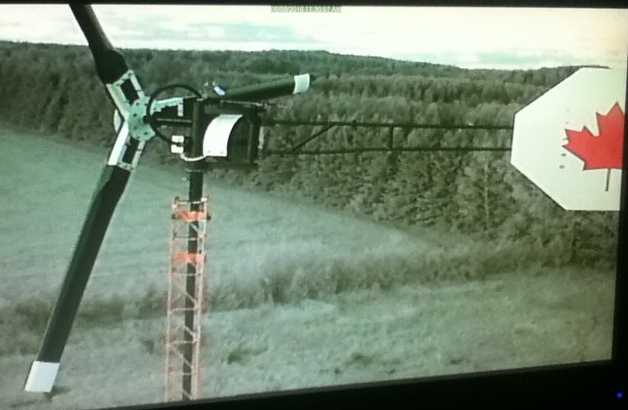 Chris writes:
This is a photo of one of my 12G turbines on a 200 foot tower that powers an off-grid home in the Boreal Forest of Central Ontario, Canada.  The photo was taken by a remote control security camera mounted on the adjacent tower which also has a 12G turbine on it.  These two machines, combined, have averaged 32 kWh a day on those 200 foot towers, meaning they have each produced an average of 660 watts, 24 hours a day.

These machines are hard at work every day up there, 175 miles from the nearest grid power lines, and the only way you can get to this location where the turbines are is by float plane.  The nearest road, which is just an old logging road that's not used anymore, is about 40 miles away.  I hauled these turbines up there in May with a De Havilland DHC-2 Beaver converted with a Pratt & Whitney PTA6-A turbine engine in it with 750 shaft hp.  I landed on MacDowell Lake when I delivered the turbines to the remote fishing camp where they are installed.
some people have all the fun 🙂