For those of you who do not read the Otherpower discussion board at Fieldlines, well, you should.
Here is a recent posting about a workshop at Buckville CO.   Dan Bartmann, George and Scottie guided a small group to build an ambitiously large turbine.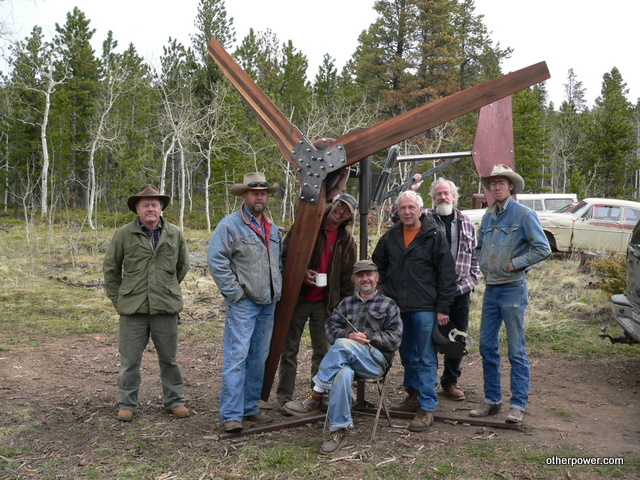 DanB has recently posted about a couple of other workshops they did at the Midwest Renewable Energy Association in Wisconsin here and here
These are not only good stories, but also contain a lot of technical details for the latest 12 foot machines being built.  "This is a 48V turbine, we wound the stator with two strands of AWG 15 wire in hand and 64 turns per coil.", "We hit 48 Volt cutin at 125 rpm as usual."  and "In an effort to fit as much copper as possible into this stator, we wound the coils (24 volts) with 33 turns each, using 4 strands of AWG 15 wire.  "
The the 15 inch diameter rotors look lovely with their 2″ diameter, 1/2″ thick N42 neo magnets on (which cost $20 each now!)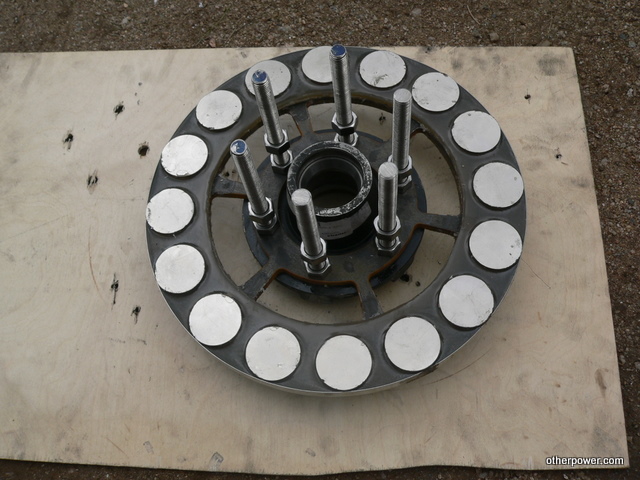 My recipe book calls for 45 and 90 turns of wire(14 gauge), which has a higher resistance.  I use smaller 2″ x 1″ magnets, on a larger (16″) rotor disk.  I have a philosophy of using larger stators and less neodymium.
The Otherpower design can hit a higher peak power, but my alternator will be less prone to stalling the blades.
The Fieldlines discussion board is a good place to get advice, see what works for others, and be amazed.  Otherpower are the best guys at running workshops for homebrew windpower and related topics.  Check their web page Otherpower.com for dates and venues.